Image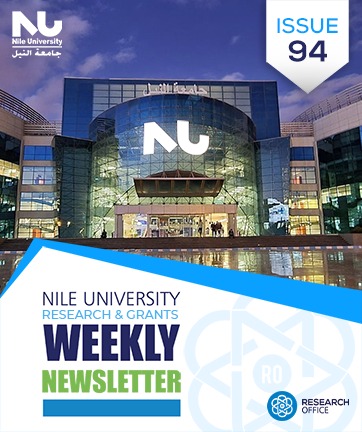 NU Research & Grants Weekly Newsletter - Issue #94
NU Research & Grants Weekly Newsletter - Issue #94
Important Announcement:
Round #2 for STDF Research workshops series for academics: Deadline to register 30 – Sep – 2022

FAIR Data Management Workshop at NU 25 & 26 – Sep – 2022

Moments from the conference "From Pollution to Solution" held jointly at NU & Beni Suef University

Official bylaws by SCU (2022-2025) for the scientific committee for reviewing Academic Promotions
Awards & Competitions Announcements
MDPI Sensors journal prestigious awards (2 different Awards)
Recommended Events
Egypt Energy 2022 30 Oct – 1 Nov 2022 – Free registration & Attendance
NU Research Community in a week
Dr. Lobna Said on editorial board, Journal of Electronics and Communications  (AEU)  
Trainings & Webinars
FBEI:  Various Talks in Biomedical Engineering – 24 Sep 2022

NRC:

الجديد فى متطلبات و صياغة النماذج المستحدثة لطلب براءة الاختراع

– 25 Sep 2022

Self – Branding workshop at NU – 24 Sep 2022

ASRT & IEEE Egypt section: "Building Resilient Autonomous Space Exploration Missions: An ICT perspective"

ASRT: "

مستقبل الإنتاج الزراعي "النباتي والحيواني" والغذاء في ظل التغيرات المناخية

" – 26 Sep 2022

NRC: "Few Steps Towards Achieving a Better Presentation of the Research Results." – 27 Sep 2022

Prof. Moeness Amin: Dual Function Systems with Legacy Radar Platforms – 28 Sep 2022

Implementation of Business Skills for Future leaders

Mahara-Tech ITI Trainings

Egypt FWD Initiative

AWS re/Start Program Cloud Boot Camp

Front End & Performance Testing

EKB Workshops
Scholarship, Internship & funding opportunities for graduates
Fulbright Egypt Egyptian Student Program - Ph.D. Joint Supervision grant

Fulbright Egyptian Scholar Program – Post-Doctoral Research Grant

2023/2024 Chevening Scholarships

ITIDA - Learn to Go Offshoring

MCIT - Egypt Digital Egypt Builders Initiative (DEBI Scholarship)
Entrepreneurship
ITIDA - Plug & Play Egypt
ASRT & NRC - Capital Business Incubator
NP Incubate - LaunchSaaS – Cycle #4 
NP Incubate - Women in TECH
NP Incubate - Creative Design Incubator
NP Incubate - Engineering Incubator – Cycle #4
Grants Opportunities
U-Solve open call by ENI-CBCMED & ASRT.

Smart Fellowships by ICGEB.

APPLIED SCIENCES RESEARCH GRANTS, CALL-2 by STDF

ITAC COLLABORATIVE FUNDED PROJECTS (CFPs)

UK – Egypt Trans-National Education (TNE) Grant by The British Council.