Image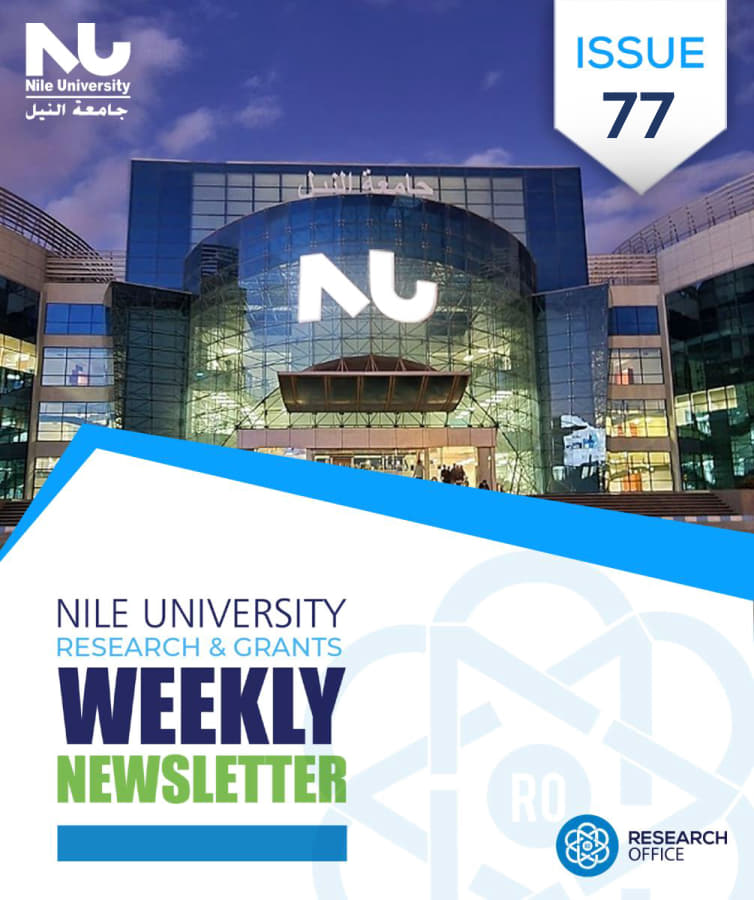 NU Research & Grants Weekly Newsletter - Issue #77
NU Research & Grants Weekly Newsletter - Issue #77
Important Announcement:
 NU 1st Employment Fair 22 – May – 2022
Call for COP27 - ASRT Green Fund: Climate Change Adaptation and Nature Conservation EXTENDED 29 – May – 2022  
Online summit "Open Access for Egypt" – 30 – May – 2022 
NU hosts the 2nd Meeting for the National Committee for Mathematics Saturday 7 – May – 2022 
NU organizes & hosts the International Day for Women in Mathematics Online Workshop 12th – May – 2022
3rd Egyptian Junior Researcher Competition 2022 (14th UGRF Special National Edition) – 7 – August – 2022
NILES2022 Announcement (Call for Papers) and important Dates 
Women in Science Egypt Young talents program Egypt - National program 2022 – Deadline: 30-July-2022 
Awards & Competitions Announcements
 'Get plugged into education!' with Moodle Hackathon 16 – 29 May (Register NOW!)
Cairo Water Week (CWW2022) 4 different Competitions 
Call for Nominations: International Awards in Physical sciences, Mathematics and Computer science – 2023 – Deadline: 31-May-2022
Recommended Events 
Cairo Water Week (CWW2022)
NU Research Community in a w eek
Prof. Ahmed Hassan is a Key guest Speaker for the Importance of Digital Transformation
Research Tips
List of Conference – suitable for publishing
Abstract submission for Cairo Water Week conference (CWW2022)
1st International Conference on Artificial Intelligence Science and Applications (CAISA2022) 
List of Conferences
Trainings & Webinars
Scholarship, Internship & funding opportunities for graduates
Entrepreneurship
Grants Opportunitie
EU commission capacity building fund: LIFE Programme 2022 Calls for project proposals.