Image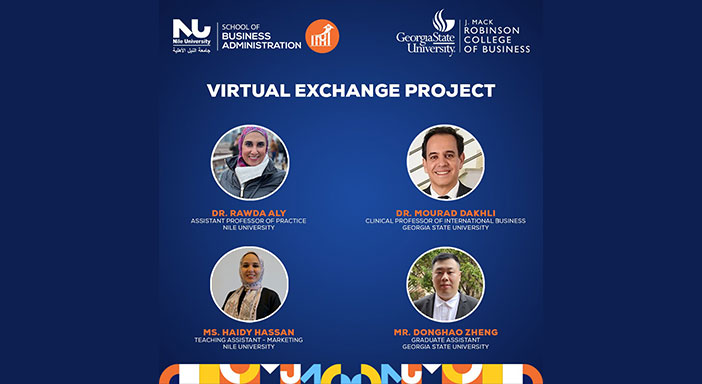 Virtual Exchange Project with The Institute of International Business
The School of Business Administration partnered on a virtual exchange project with The Institute of International Business, a unit of the J. Mack Robinson College of Business at Georgia State University (GSU) located in Atlanta, USA. Students worked in cross-border virtual teams to complete a thorough PESTEL (Political, Economic, Sociocultural, Technological, Environmental, and Legal) analysis of emerging or frontier countries in Africa.  
Of those who attended the course in the virtual exchange project, 47 students joined from the Global Business course delivered by Clinical Professor of International Business, Dr. Mourad Dakhli, at GSU, and 66 students from the strategic management course delivered by Dr. Rawda Ali, Assistant Professor of Practice at NU. Students were also supported by Haidy Amin, Teaching Assistant at NU, and Donghao Zheng, Graduate Assistant at GSU throughout the project. The project was coordinated by Nada Bedir, Assistant Director of Graduate Studies at the School of Business Administration at NU.  
By participating in the virtual exchange projects, students develop cross-cultural communication skills, manage the challenges of working across cultures and time zones, gain primary and/or secondary research skills, and improve critical thinking and international business decision-making skills.