Image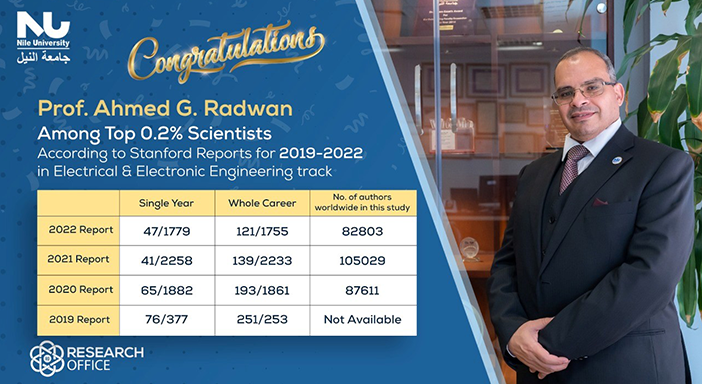 Prof. Ahmed Radwan among Scopus Top 2% Scientists in the World
We would like to congratulate Prof. Ahmed Radwan for being recognized among Scopus' top 2% scientists in the world and ranked this year #47 out of 1779, and in the whole career #121 out of 1755 scientists in the field of electronics and electrical engineering worldwide.
Dr. Radwan Short Bio: 
Ahmed Gomaa Radwan
Professor, Senior Member IEEE, Fellow AAS
Vice president for Research, Nile University

Prof. Ahmed G. Radwan (SMIEEE, Fellow-AAS) is the Vice-President of Research at Nile University and a Professor in the Engineering Mathematics Department at Cairo University. He is the Founder and general co-Chair of the NILES International Conference and the Founder and Chair of the Undergraduate Research Forum (UGRF) at Nile University.
According to Scopus, he has a total number of indeed publications of 419 8400 citations and an h-index: of 49. He is a co-inventor of 6 US patents, author/co-author of 10 international books, as well as 18 book chapters in highly ranked publishers. Prof. Radwan is leading the fractional-order circuits track worldwide. He is an associate editor in 4 prestigious Scopus-indexed journals and a TC member in IEEE CASS.
Some of his prestigious Awards: The State Encouragement Award, The State Excellence Award, the Abdul Hameed Shoman Award, the Scopus Award in Engineering and Technology, the Prof. Tarek Khalil Award 2022 for Distinguished Leadership from Nile university, and many more. He managed funded projects with budgets over 10M EGP and supervised more than 35 (Master's and Ph. Ds).

Congratulations, Prof. Ahmed; our sincere wishes for continued and more success and achievements.