Image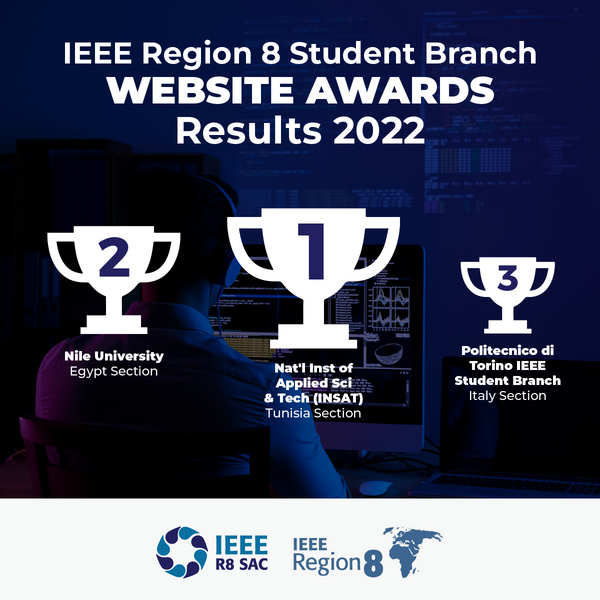 IEEE Nile University Branch Won 2nd Place in One of the Region 8 Competitions
Wonderful news is always knocking on our doors when it comes to our hardworking students. 
We are proudly announcing that the IEEE Nile University Student Branch won 2nd place in the IEEE Region 8 Student Branch Website contest during the season of 2021–2022.
IEEE NU Student Branch is currently considered the second student branch in the Egypt Section to participate in and achieve an award in this competition. Moreover, it is the third international competition that the branch has won in the last two years.
We are delighted to announce the winners of the region 8 outstanding student branch website award 2022.
1st place goes to "Nat'l Inst of Applied Sci & Tech" (INSAT) - Tunisia Section.

2nd place goes to our branch "Nile University" - Egypt Section.

3rd place goes to "Politecnico di Torino" IEEE Student Branch - Italy Section.

The IEEE Regional Student Website Contest is conducted by the IEEE MGA Student Activities Committee. This committee oversees IEEE Student Programs and Activities of the IEEE Student Branches.
This award is aimed to recognize those student websites that provide information about the activities, latest tech updates, learning opportunities, IEEE benefits, etc. through creative digital efforts aimed to make it easy for students of their student branch to obtain the information. Usually, a website becomes the face of an organization and the main information provider to interested parties.

The goal of a website contest is to convey information in a manner useful to the reader, similar to the goal of writing a paper. How you convey the information can increase readers' interest as well as their knowledge.