Image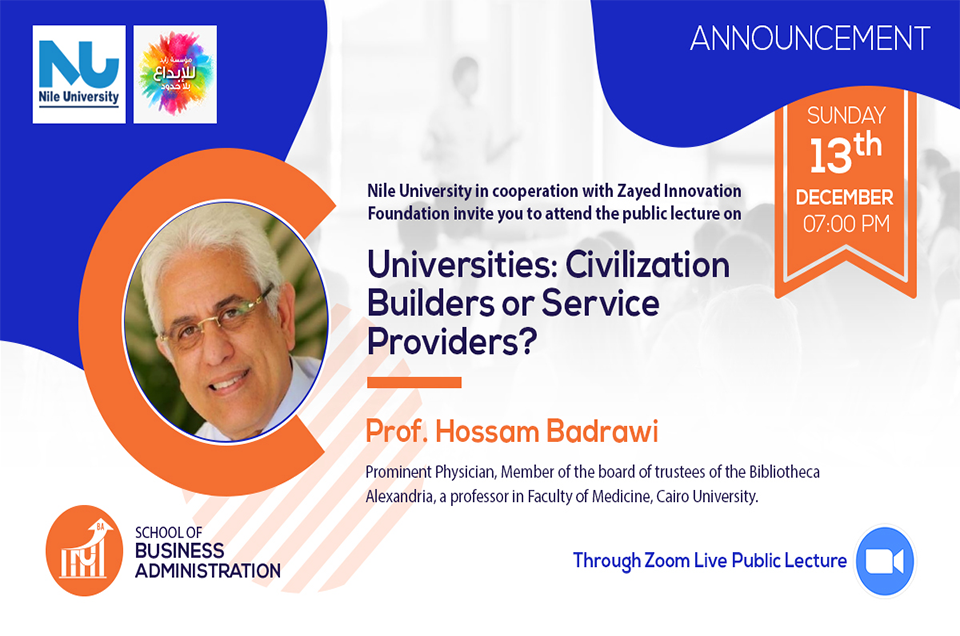 Professor Hossam Badrawy Live Webinar
Go To Webinar
Nile University invited Professor Hossam Badrawi, Professor in the Faculty of Medicine, Cairo University, and a well-known politician in Egypt, to hold a live public lecture, including a talk on "Universities: Civilization Builders or Service Providers?", followed by questions and discussions.
The lecture was broadcasted online on Sunday, 13 December 2020, 7:00 - 8:30 pm(Cairo time – GMT +2). Prof. Hossam Badrawi is a prominent physician and a well-known politician in Egypt, a member of the board of trustees of the Bibliotheca Alexandrina, and a professor at the Faculty of Medicine, Cairo University. He chaired the Education Committee in the Egyptian Parliament from 2000 to 2005. He chaired the OB/GYN department at Cairo University and served as a board member of Egypt's first National Council of Human Rights. He earned a BS with honors from Kasr El-Aini School of Medicine in 1974. He received his doctorate from the same University and Wayne State University in Detroit, Michigan.
He had his doctorate in Scanning Electron Microscopy on human endometrium, then graduate studies at Northwest University in Chicago, and later on from Boston University, Boston, USA, in Education Reform. He published 120 scientific papers and seven books in his specialty and education. Prof. Badrawi's last publication is a book called "At the Café of Dreamers of Tomorrow" in 2020.
Dr. Badrawi received, in 2007, an honorary Ph.D. in science from Sunderland University in the UK and an honorary fellowship from Cardiff Metropolitan University Wales, the UK, in 2014. Professor Badrawi is the co-founder of Arab Parliamentarians Against Corruption and also chaired the World Bank Parliamentary Network from 2003 to 2006.
Badrawi is a trailblazer in the private healthcare sector with his distinguished vision for healthcare financing, management, and provision. Along with his family, he established the Nile Badrawi Private Hospital in 1985 and the first HMO in Egypt in 1989, MEMedicare Insurance Co. Besides his academic and political career, professor Badrawi is an active member of several leading NGOs in Egypt, as he advocates for youth, women, and children's rights.