Image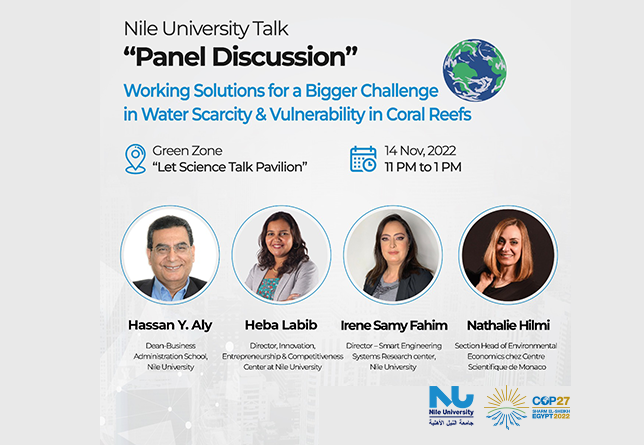 Nile University's Discussion Panel at COP27
COP27 is right around the corner!
We are excited to announce Nile University's participation in the United Nations Climate Change Conference "COP27", by organizing a key panel discussion titled  "Working Solutions For a Bigger Challenge in Water Scarcity and Vulnerability in Coral Reefs"; this discussion will be held in the Green Zone on Monday, 14th of November, at 11:00 AM.
The panel discussion will witness the participation of:
     

Dr. Hassan.Y. Aly, Dean of NU's School of Business Administration.

     

Dr. Heba Labib, Director of The Innovation, Entrepreneurship & Competitiveness Center at Nile University.

     

 

Dr. Irene Samy Fahim, Director of The Smart Engineering System Research Centre at Nile university.

    

 

Dr. Nathalie Helmy, Head of Research at the Centre Scientifique de Monaco.
The discussion will tackle several key topics, most notably water challenges, and their solutions, colored economy (highlighting the importance of coral reefs and their vulnerability, and coming up with ecological, socio-economic, and financial solutions to preserve this ecosystem), finding sustainable solutions for packaging and showcasing sustainable products for waste. The panel will also discuss a framework for waste management and the support that Nile University provides for sustainable businesses around Egypt.