Image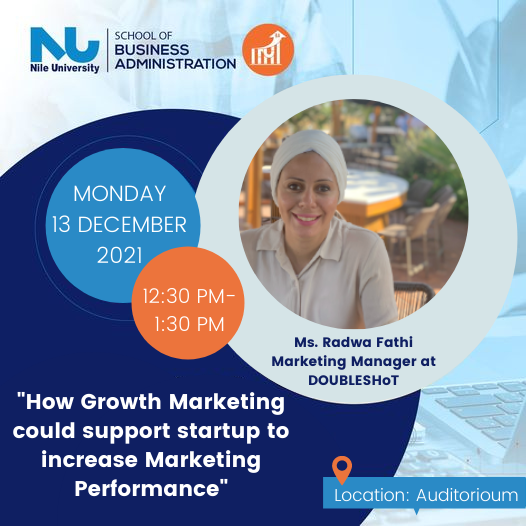 "How Growth Marketing Could Support Startup to Increase Marketing Performance" by Ms. Radwa Fathi
School of Business will be hosting Ms. Radwa Fathi, Marketing Manager at DOUBLESHOT, on Monday, 13 December 2021, to discuss "How Growth Marketing Could Support Startup to Increase Marketing Performance" as part of the MKTG 301 - Principles of Marketing under the supervision of Dr. Noha Alaa.
Ms. Fathi is a passionate marketing consultant, with more than 12 years of experience in the marketing field. She has worked as a brand manager with different FMCG brands for over 7 years.
Her great passion is building strategic marketing plans & implementing marketing campaigns, and getting involved in creating new marketing plans for new industries and FMCG products.
Her current obsession is Digital Marketing, and how to reach people digitally and subtly support them to buy products without a mega investment in mind. When Ms. Radwa embarked on her entrepreneurial journey, and founded DOUBLEShOT, a Digital and Performance Marketing Agency, she started with the most challenging part of her expertise which is Growth Marketing or what agencies call "Performance Marketing".
The session will be in the NU Auditorium from 12:30 PM to 1:30 PM.
Anyone who is interested in Performance Marketing is very welcome to join Ms. Radwa's session.
Students must wear their masks and keep social distancing.