Image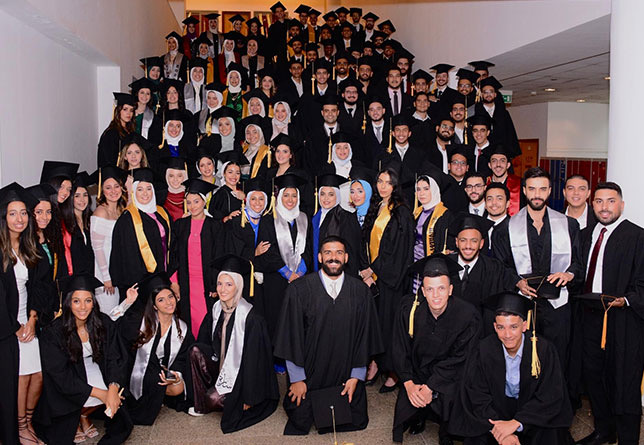 Graduation Ceremony 2021/2022
Nile University, headed by Dr. Wael Akl, celebrated the graduation of a new batch of master's, doctoral and bachelor's degrees at the university's main campus in Sheikh Zayed City. The university celebrated the graduation of the 10th batch of its undergraduate students, the 13th batch of master's students, and the 2nd batch of doctoral students.
The university's board of trustees participated in the graduation ceremony, in its entirety; headed by politician Amr Moussa, Chairman of NU's Board of Trustees. The keynote speech at the ceremony was given by Engineer Ibrahim Mahlab, Presidential Adviser for National Projects and member of the University's Board of Trustees, in the presence of Dr. Mahmoud Sakr, President of the Academy of Scientific Research and Technology, Dr. Johansen Eid, Chairman of the Board of Directors of the National Authority for Quality Assurance and Accreditation of Education, students' families, a number of important figures interested in the educational process, and some of the media professionals and journalists like TV Presenter, Essam Youssef.
For his part, Dr. Wael Akl, President of Nile University, congratulated the graduates, students and professors. He stated that the university is always proud of its graduates and students because they are its true ambassadors; and that he is also proud of the university's research, academic and pioneering role in scientific and technological research and entrepreneurship inside and outside Egypt, especially since the reputation of the university and its students globally occupies an advanced position.
Dr. Wael Akl also pointed out that the graduation of this year's batch comes amid hopes for the university to further progress in scientific research, and a prominent scientific position amongst the universities' community, especially since the university has always been proud of its mission as the first private, non-profit research university. He stressed that all areas of the university are in the interest of the national economy which is supported by its major role in serving international publishing and supporting the scientific research process in Egypt.
He concluded that the university was established to be a pioneering university in advanced technological fields that contribute to supporting industry and the growth of the Egyptian economy and consolidating the principles of knowledge and science as a basis for the growth of society.