Image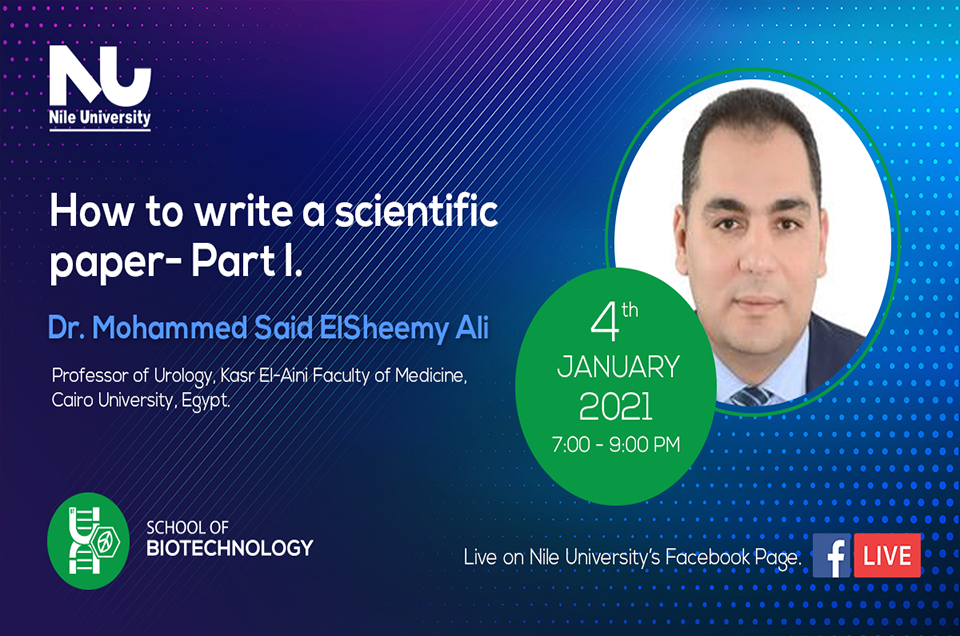 Dr. Mohammed Said ElSheemy Live Webinar
Go To Webinar
Nile University was pleased to invite many people to join our live public lecture featuring Dr. Mohammed Said ElSheemy Ali, Professor of Urology, Kasr El-Aini Faculty of Medicine, Cairo University, which included a talk on "How to write a scientific paper- Part I.", followed by questions and discussions panel. The lecture was held online on Monday, 4th of January 2021, 7:00 - 9:00 pm(Cairo time – GMT +2). Brief Abstract of the Presentation:
1. Idea of Research: How to search for it and the criteria of the practical idea.
2. Title of Study: Criteria of an attractive title.
3. Introduction Section: Essential components.
4. Method Section: Different parts of the method section Speaker's Biography:
International awards in peer reviews:
1. Publons peer review global awards 2016; 2017; 2018; 2019 "One of the top 1% of reviewers in the field of clinical medicine" and in the field of "cross-field."
2. Elected as the best reviewer in the January-February 2016 Issue and July-August 2018 Issue of the Urology Journal (IF 1.4; ISSN 1735-1308).
3. "Outstanding contribution in reviewing" awarded September 2017 from Gold Urology Journal (IF 1.9; ISSN 0090-4295).
• International awards for posters and abstracts: 1. Best poster during the 31st Annual European Association of Urology (EAU) Congress in Munich; 2016" and "the 32nd Annual EAU Congress in London; 2017".
4. Best poster during the 28th Annual Congress of European Society for Pediatric Urology (ESPU), Barcelona, Spain, 2017".
1. Documented peer review activities on Publon website for peer review activity of 643 reviews; (web of science): 464.
2. Reviewer in 54 international journals indexed in web of science &/or Scopus.
3. Total: reviewer in 106 journals.
1. African Journal of Urology (eISSN: 1961-9987, ISSN:1110-5704; Emerging Source Citation Index; Scopus: cites core 0.5).
2. Medicine: (ISSN: 0025-7974; E-ISSN:1536-5964) (WOS: IF 1.8; Ranking: Medicine, General & Internal 15/153) (Scopus: cites core 2.7) (http://journals.lww.com/md-journal/pages/default.aspx).
3. Egyptian Journal of Urology.
4. Other journals: 30 local Journals.
 Mentor for training on peer review (Publon Academy): As an expert mentor, providing peer review training course through Publons Academy for early career researchers; offering feedback, motivating, and endorsing early career researchers for excellence in reviewing.
 Publications: Sixty-six publications in Web of Science and Scopus indexed journals.