Image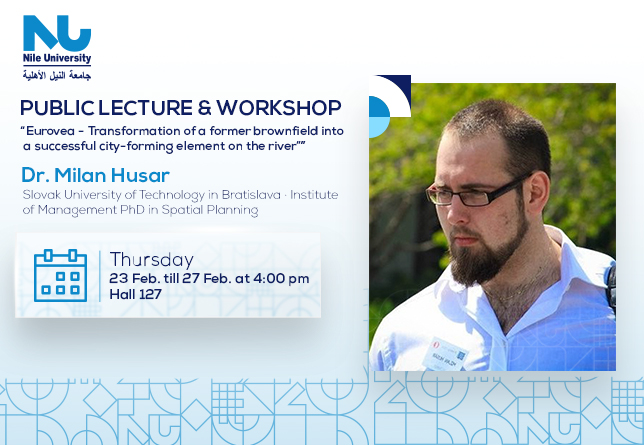 Dr. Milan Husar's Public Lecture at Nile University
School of Engineering and Applied Sciences at Nile University is pleased to host Dr. Milan Husar at Nile University through the collaborative workshop between Nile University and the Slovak University of Technology in Bratislava (STU).
This workshop will be part of Design Studio VI- Urban Regeneration and Adaptive Reuse. He has been invited for a public lecture in the opening of the workshop with the title of :
"Eurovea - Transformation of a former brownfield into a successful city-forming element on the river"
Milan Husar is a lecturer and researcher at Spectra Centre of Excellence of the EU at the Department of Spatial Planning, Institute of Management, STU Bratislava. He has participated in a number of national and international research projects covering topics of smart cities, biodiversity protection, and spatial planning. He has a Ph.D. Degree in spatial planning (2016). For the past 5 years, he had been invited to multiple lecturers at Middle East Technical University and other institutions. As a Fulbright Scholar spent 6 months at Arizona State University working in Centre Behavior, Institutions, and the Environment, founded as a sister center of the Vincent and Elinor Ostrom Workshop in Political Theory and Policy Analysis at Indiana University, as well as other research, stays across Europe.
Venue: Nile University, Hall 127 Building Prof. Tarek Khalil.
Time: Thursday, 23 Feb. at 4 pm.
Waiting for you.