Image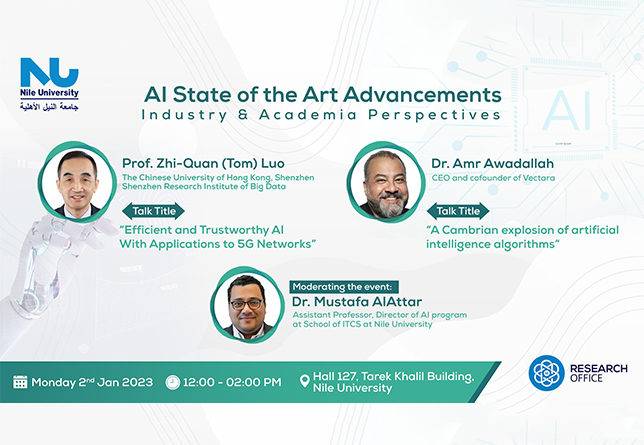 "AI State of the Art Advancements: Industry and Academia Prespectives" Seminar
Hall 127, Dr. Tarek Khalil Building
Register Here
Artificial intelligence is shaping the future of humanity across nearly every industry. It is already the main driver of emerging technologies like big data, robotics and IoT, and it will continue to act as a technological innovator for the foreseeable future.
You have the chance to attend a unique event about Artificial intelligence and its application in Industry and Academia.

It's a pleasure to announce the talks presented by our special speakers.
One of the top scholars in the world in the field of AI:
The Chinese University of Hong Kong, Shenzhen Shenzhen Research Institute of Big Data.
One of the pioneers in the industry:
The CEO and co-founder of Vectara.
the event will be moderated by:
Director of AI program at the school of ITCS at Nile University.
N.B:
The event will be held at Nile University campus.
Attendance is free, but limited seats are available.
The ticket of attendance will be sent via mail.