Its mission is to establish itself as a frontrunner in the realm of theatrical competitions throughout Egypt. With unwavering dedication, it aims to garner widespread recognition and appreciation from universities across the country, solidifying its reputation as a formidable and esteemed ensemble of talented actors. 
Abdelrahman Abuelela and Mohamed El Sebaey, the visionary founders of NU Black Theater, were united by their unwavering love for acting and cinema, even as they pursued different academic paths. While Abdelrahman majored in Supply Chain and graduated in 2023, Mohamed's focus was on Industrial Engineering, completing his studies in 2022. Together, they embarked on an ambitious and transformative journey that would reshape the vibrant community of Nile University.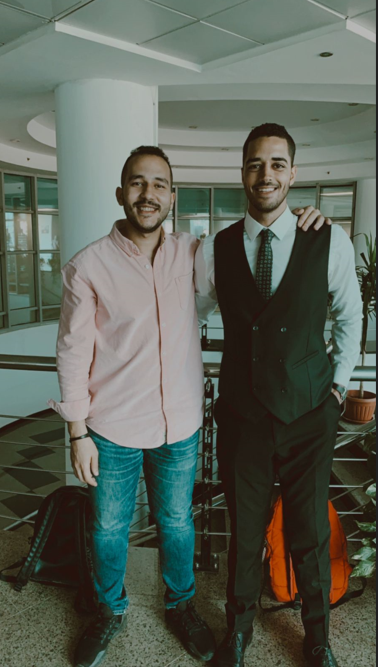 It all started in late 2016 when Abdelrahman and Mohamed were chatting. They often discussed movies, acting, and their shared love for the performing arts. "Mohamed had always dreamt of studying at the Institute of Dramatic Arts" Abuelela said, "while I had prior experience working in advertising and production". One day, Mohamed suggested forming a theater team to teach acting and put on shows. They spent about six months planning and meeting with theater teams from different universities and experienced directors to learn how to create a successful team.
In 2017, they began preparing for their first play called "El Araies" directed by Rami Al-Tambari. Although it wasn't the best performance ever, it marked the first step towards achieving their vision. Abdelrahman and Mohamed participated in around five shows with the team, always aiming to build a self-sufficient and successful group that could break boundaries.
Today, NU Black Theater stands as a testament to Abdelrahman and Mohamed's vision and leadership. Their journey demonstrates the power of passion, dedication, and a shared dream. Through their determination, they have opened doors for aspiring actors and directors, defying limitations and making a lasting impact on the theater community.
"El Araies" - Attendees: 900, number of shows: 2  
جمهور عام" +18" - Attendees: 1000, number of shows: 2 
"Hala Harega" - Attendees: 1,100, number of shows:2

 

"C'est La Vie I Play" - Attendees: 1,100, number of shows: 2 

 

"El Seera" Short Play: This play was performed for Dr. Tarek Khalil's farewell party. Attendees: University Staff and Presidents, number of shows: 1
"C'est La Vie II Play" - Attendees: 700 (COVID restrictions), number of shows: 2
Al Efsenteen Play - Attendees: 800 (COVID restrictions), number of shows: 3 
Wala Benkhaf Play - Attendees: 1,000, number of shows: 2