Image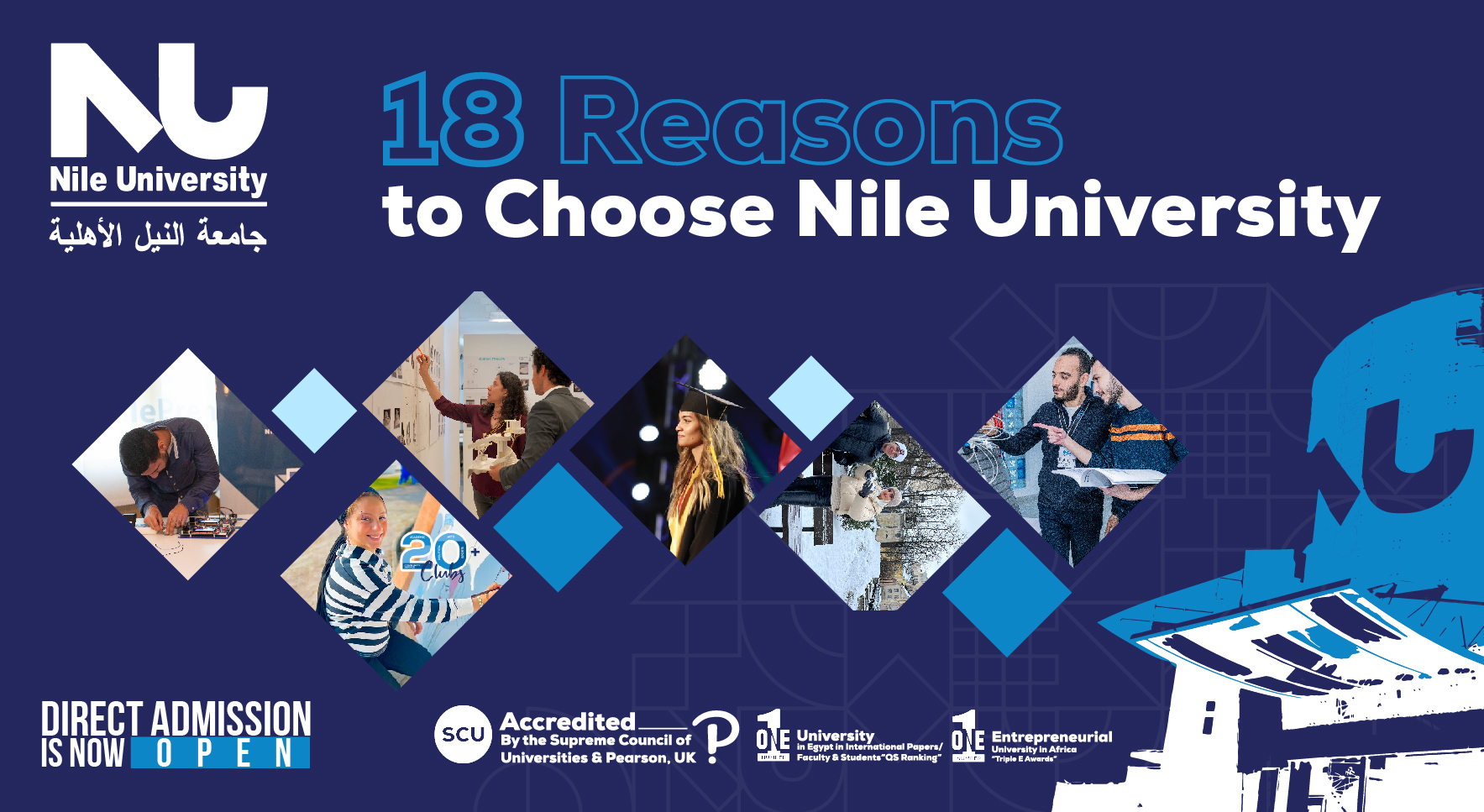 What are the Reasons for Choosing Nile University?
With all the efforts that are being exerted and the success that Nile University is receiving, here are the top 18 reasons for choosing the first non-profit private research university in Egypt, established to be a pioneer in the field of technology education and entrepreneurship in Egypt, the Middle East, and North Africa.
1.   World-class faculty with impressive international recognition that supports students with cutting-edge technologies and knowledge to help them achieve their goals.
2.    Vibrant campus life with 20 student clubs, gym, sports facilities, workshops, extracurricular activities, and national/international competitions.
3.    Project-based learning approach integrated from day one across courses, with interdisciplinary projects to enhance students' soft skills and strengthen their portfolio.
4.    Minimum time for graduation is achievable in 3.5 years in Information Technology and Computer Science, Business, and Biotechnology or 4 years in Engineering. 
5.    Pearson international and the Supreme Council of Universities national accreditations, with a global network of alumni working in 20 countries, comprising 25% of graduates.
6.    Work/Study programs that include working as a junior TA supporting in tutorials, a junior RA supporting in projects, or an intern supporting administrative departments. 
7.    Hands-on learning with real-life applications that reflect our unique learning culture. This includes internships provided in partnership with national/international entities.
8.    High-tech labs and research centers have encouraged NU undergraduate students to publish +100 international papers and write funding proposals and projects.
9.    Innovative and incubation-oriented environment that created 50+ startups by undergrads through workshops and events related to entrepreneurship and innovation.
10.    Diverse and inclusive community that has multicultural events, affinity groups, initiatives and services established based on students' interests. 
11.    Strong student union with an independent budget for supporting several activities, parties, competitions, volunteer opportunities and social responsibility.
12.    Lifelong learning is supported through entities like executive education and programs like the FESTO Professional Diploma in Industrial Automation and Mechatronics.
13.    Full/partial scholarships for excellent students, in addition to supporting all their activities/competitions and providing them opportunities to gain money as well through work/study programs.
14.    Financial aid committee to help good students who are facing hardships where different criteria are applied to suit everyone. 
15.    International and national partnerships with academic and industrial entities.
16.    Study abroad and exchange programs with 10+ universities in Europe and USA, enhancing students' skills and networking and valuable international exposure.
17.    Academic programs with minors in different domains to improve students' exposure and qualifications.
18.    Students of 23/24 class shall receive a competencies certificate and extracurricular certificate from Nile University that shall distinguish them in the job market.