Image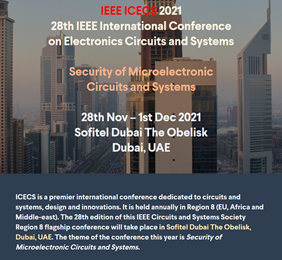 Prof. Ahmed Madian and Dr. Lobna A. Said at the International Conference on Electronics Circuits and Systems (ICECS) 2021
Prof. Ahmed Madian, Director of ECE Program and NISC Center, participated in the ICECS2021 as a member of the organizing committee (Entrepreneurial program chair) and Dr. Lobna A. Said, Associate Professor and Director of MSD program, as Chair of the Track "Linear and nonlinear circuits and Systems". 
The 28th IEEE International Conference on Electronics Circuits and Systems (ICECS): Security of Microelectronic Circuits and Systems conference will be held on 28th Nov – 1st Dec 2021 at Sofitel Dubai The Obelisk, Dubai, UAE. 
ICECS is a premier international conference dedicated to circuits and systems, design and innovations. It is held annually in Region 8 (EU, Africa and the Middle East).