Image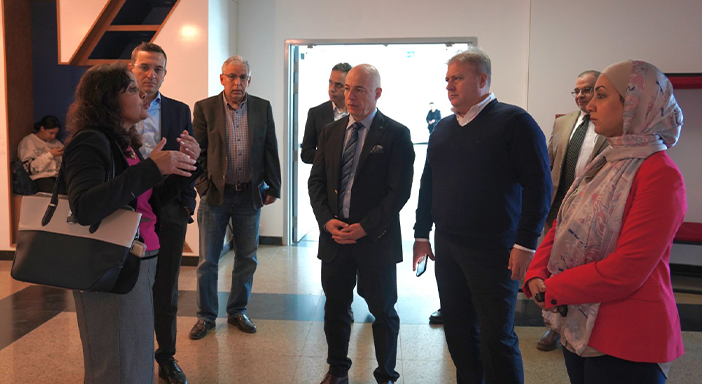 NU Partnership with Arçelik Global
Nile University was honored to receive Arçelik convoy and have such on-ground collaborations with international corporates. We are glad they have praised the different approaches and technologies that they've witnessed during their tour. 
Arçelik is a Turkish multinational household appliances manufacturer which owns Beko and Grundig.
Since Nile University aims to have a real impact on the local and international market, it has been pursuing several collaborations through its different research and industry support centers, aiming at sustainable economic development based on high-quality education, cutting-edge technology, research and innovation.
As for Arçelik, it maintains a strong focus on research and development and believes its ability to deliver innovative products is key to its success. In addition to its expertise in its principal product areas, Arçelik has consciously developed its capability in the engineering disciplines that underpin Arçelik's products and their functions, including basic sciences, thermodynamics, fluid mechanics, vibration and acoustics, cleaning and hygiene, food and cooking, material technologies, electronics, electrical motors and motor drive, IoT, sensor and computer-assisted design and engineering.
With such mutual understanding, NU and Arçelik decided to sign a momentum of agreement (MOU) for potential collaboration on topics and areas that have been unanimously agreed on comprising the following points:
1- Collaborations for Access to Academic Competence
Planning research and development-based training needs.

Co-worked

thesis studies of undergraduate, graduate and doctoral students.

Providing human resources that Arçelik needs in cooperation with the university via co-developed mechanisms
2- Joint Cooperation in University-Industry Collaborative Projects
University-industry collaborations on issues such as service procurement, consultancy, product and technology development.
3- Collaborations for Joint Academic Studies
Supporting the projects carried out by academicians to strengthen their own careers.

Planning of joint infrastructures.

Collaborations on access to research infrastructures within the university.
The priority study topics are presented below:
IOT and wireless connectivity solutions

Sensor Technologies for home appliances

Hardware and software for control systems

Nanoelectronics systems

Data sciences, AI and Machine Learning

Thermal & Mechanical systems and

New priority areas that may come to the agenda with the written consent of the "Parties"
Nile University is not intending to stop any time soon and is making sure that the rate of its partnerships, whether with corporates, educational institutions, or any other entity, is hitting higher bars every year.