Image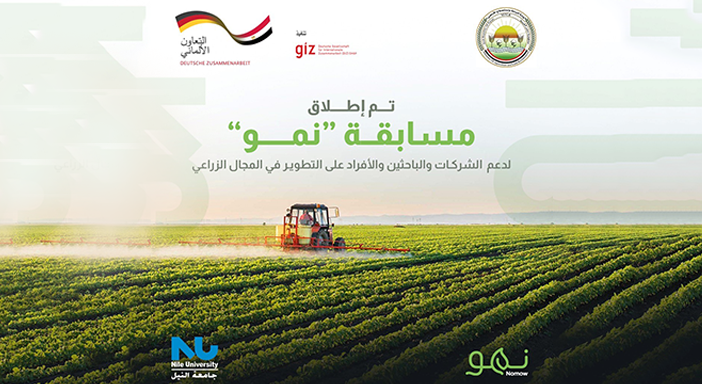 Nomow Competiton by GIZ in Partnership with NU
Sticking to our vows to continue our efforts regarding sustainability, Nile University haspartnered with the German Agency for International Cooperation (GIZ) to be the implementors of the Nomow Competiton. 
Nomow Comprtion  is organized by the GIZ, on behalf of the German government through the Agriculture Innovation Project (AIP) in cooperation with the Ministry of Agriculture and Land Reclamation and Nile University as the implementing partner.
GIZ Egypt is launching a call for applications for the Nomow competition to support innovation in the agriculture sector. The competition aims to support companies, researchers, and individuals to develop agricultural products and services using innovative solutions to serve the agriculture sector.
By joining the competition, you will benefit from
Extensive regional network
Training by the best experts in the agricultural field
Technical consultations
Scalability for your project
Awards to the best project
N.B: The deadline for submission is Wednesday, November 30.
To know more about the competition and to register, follow this link: shorturl.at/oyzMR