Image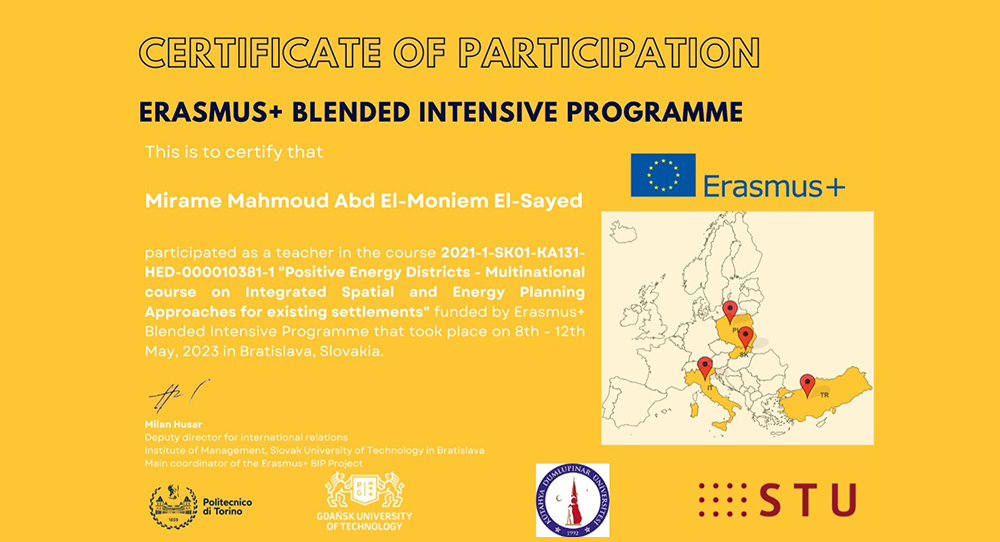 Nile University Faculty at Slovak University of Technology
Under the umbrella of the Mobility Agreement between Nile University and Slovak University of Technology STU), Arch. Mirame Mahmoud, and Dr. Menna Tawfik from the Architecture and Urban Design program ARUD accomplished two visits to Slovak's capital, Bratislava, exploring the values of internationalization and building international networks for furthering the collaboration between ARUD at NU and STU, specifically Spectra Centre of Excellence, a leading institute in spatial planning. 
Arch. Mirame spent two and a half months, during which time she participated as a member of the organizing committee and took part in the Association of the European Schools of Planning "AESOP Head of schools meeting". She also engaged in a research collaboration between the Faculty of Informatics and Information Technologies (FIIT), Spectra Centre of Excellence EU, and the Slovak University of Technology (STU) involving the utilisation of virtual reality in research. Towards her Ph.D., she conducted empirical work investigating students' perspectives on selected case studies in spatial planning. She also took part in the "Taming Traffic in Vienna – Janes Walk 2023" that took place on the 6th of May. In addition, Mirame has contributed, as instructor, in the course 2021-1SK01-KA131-HED-000010381-1 "Positive Energy Districts- Multinational Course on Integrated Spatial and Energy Approaches for Existing Settlements", funded by Erasmus+ blended intensive programme that took place between 8th -12th May 2023 in Bratislava, Slovakia.  
As part of the Erasmus+ Mobility Agreement - Staff Mobility for Teaching, Dr. Menna Tawfik has been invited to the Slovak University of Technology (STU) in Bratislava. This visit is an extended collaboration between NU and STU after the last February 2023 'Strategy Development' workshop that was held at ARUD in NU with professors from the Spectra Center of Excellence at STU. The objective of this mobility is to exchange available knowledge on sustainable spatial planning and climate adaptation measures with a special focus on future research opportunities and student exchange. Dr. Tawfik also attended part of an international workshop in STU on "Positive Energy District" funded by Erasmus+. She also introduced the Architecture and Urban Design program (ARUD), the mission, vision, teaching activities, and achievements to the workshop participants for more academic exposure and networking.