Image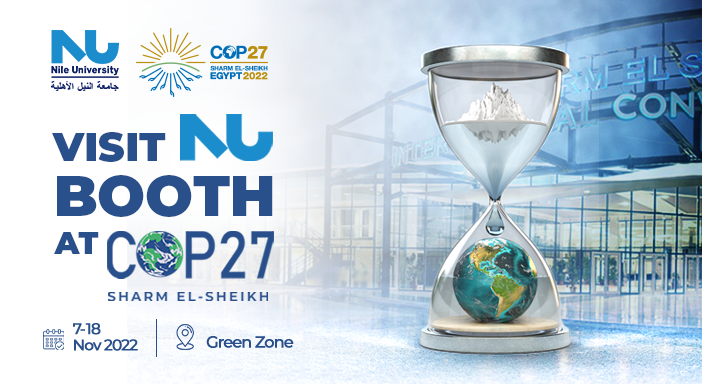 Nile University at COP27
We are excited to be a part of this HUGE international event: the United Nations Climate Change Conference (COP27), which will take place in Sharm El-Sheikh from November 6th to 18th, 2022.
It is a conference aimed at bringing governments together to accelerate global efforts to combat the climate crisis.
Nile University has long been an advocate for Sustainability by contributing to achieving Sustainable Development Goals (SDGs) and Egypt's vision for 2030. We educate students to help them bring out solutions for the plights facing our community and make sure to:
Equip them with the tools to bring sustainability concepts into the workplace and design innovative solutions to solve world challenges.
Help existing businesses to transition towards more environmentally sustainable modes of production and consumption.
Support startups and SMEs in different industries to produce sustainable products.
Expose them outside university halls to interact with the community by engaging in fruitful partnerships with different organizations.
Community Impact is one of the core pillars at NU and we believe that we have a social responsibility towards the community; a duty to contribute to building a strong Egyptian community that can be an elevation for the whole country with empowered learning and development experience.