Image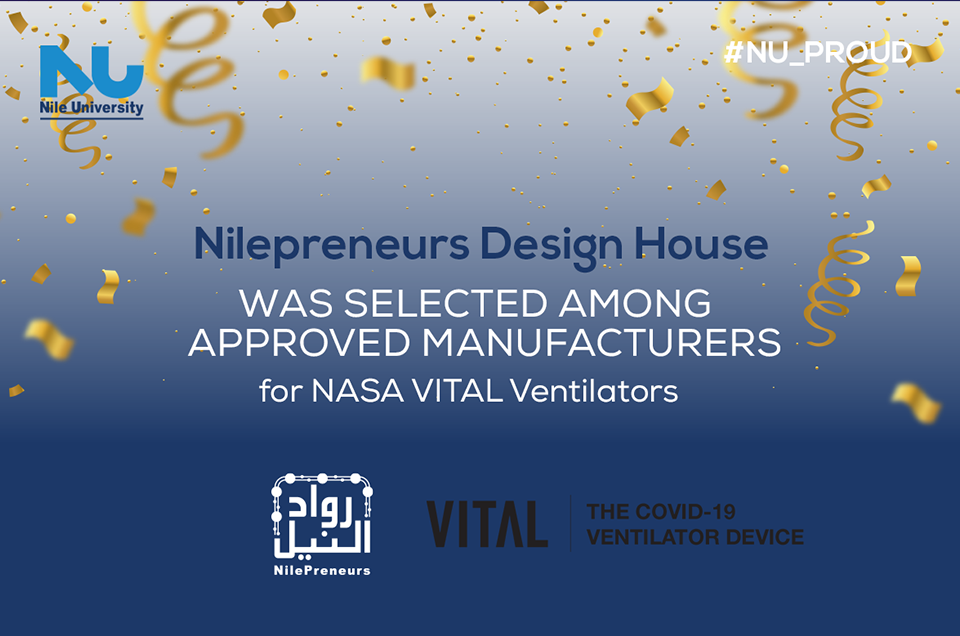 NASA Chooses NilePreneurs for Its International Corona-related Project
NASA has selected The Design House, one of the NilePreneurs initiatives by Nile University, out of 331 organizations, in 42 countries worldwide. Nasa has established it as one of the few international companies with the license to manufacture its new pneumatic ventilator device, "VITAL," which will be used to treat COVID-19 patients.
NilePreneurs is a national, fast-growing initiative funded by the Central Bank of Egypt and implemented by Nile University. NilePreneurs aims to enhance the ecosystem for entrepreneurs in Egypt through its different programs. The initiative works closely with various banks, governmental entities, and international organizations to achieve its targets.
It developed a set of services for SMEs and Startups; as of 2019, their services are summarized as follows: Business Development Services, Incubation, Training for Growth, and Innovation Support.
Representing the only licensed manufacturer from Africa and one of only two manufacturers from the Arab World and MENA, NilePreneurs has proven its distinction as one of the top international startups in Egypt.
To understand NASA's choice, it's essential to grasp the size and concept of the "VITAL" project; VITAL is an abbreviation for Ventilator Intervention Technology Accessible Locally, a device that will combat the currents COVID-19 global crisis.
NASA's Jet Propulsion Laboratory (JPL) is helping the world during the current COVID-19 pandemic with innovation, space technology, and engineering. JPL is designing an FDA qualifiable ventilating device that can serve a targeted subset of the patient population suffering from Acute Respiratory Distress Syndrome (ARDS) caused by COVID-19. It has thus decided to grant a license to many industry production partners worldwide to produce the ventilators that will meet the domestic and worldwide demand during the COVID-19 pandemic, a historical project that NilePreneurs has become an official partner.
The target patient population may not have access to traditional hospital settings. Therefore, the VITAL device would need to handle the dirt and dust of a field setting. Moreover, the devices do not need to travel with the patients between venues though they are transportable for movement within a facility when connected to an Uninterruptible Power Supply (UPS).
The intended operator will be a trained healthcare professional. A healthcare professional familiar with mechanical ventilators must specify and set ventilator settings. The healthcare professional is directly responsible for ensuring appropriate ventilator settings based on patient clinical needs and progress monitoring. It is designed and tested to allow continuous operation for up to 20 days without maintenance, with a total operational time before disposal of 4 months.
Having such an opportunity to partner up with NASA for a higher cause is awe-striking, let alone the pride that everybody at Nile University feels to be a part of a place that supports humanity and the development of our race.
Press Here for more info about the VITAL project from NASA.