Image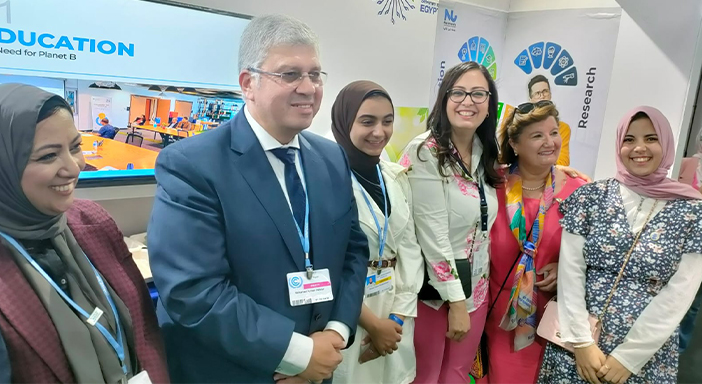 Egypt's Ministers Visitng NU Booth at COP27
We were pleased to receive the visit of His Excellency Dr. Mohamed Ayman Ashour, Minister of Higher Education and Scientific Research, Dr. Mahmoud Sakr, President of the Academy of Scientific Research and Technology, and several of the Ministry's convoy on Tuesday 8th November. 
It was also an honor to have been visited by 2 other ministers on 11th November which are Dr. Hala El Helmy El Sayed, Minister of Planning and Economic Development and Dr. Hani Sewilam, Minister of Water Resources and Irrigation. 
Nile University participated in the United Nations Climate Change Conference (COP27) believing in its role in achieving the Sustainable Development Goals (SDGs) and Egypt's vision of 2030, and thus was keen to be present as part of the activities of this conference through the booth dedicated to NU members.
The team representing Nile University presented projects for entrepreneurship and showcased NU's environmentally friendly research projects, in the field of Sustainability, which serve the green economy and support the national product; some of these projects include the manufacture of biodegradable dishes from sugar cane waste; in addition to displaying samples of bricks made from organic materials and many products that were manufactured from within University through its bodies and facilities such as the NilePreneurs Initiative and IEEC. It was such an honor to get praise from the Minister for our hard work, stressing the importance of the projects to the national economy.
It is also worth noting that Nile University has lately implemented a number of events that proved its role in the university's social responsibility, including the launch of a climate change-related competition in which various students have participated, in addition to holding several awareness seminars about the topic.