Image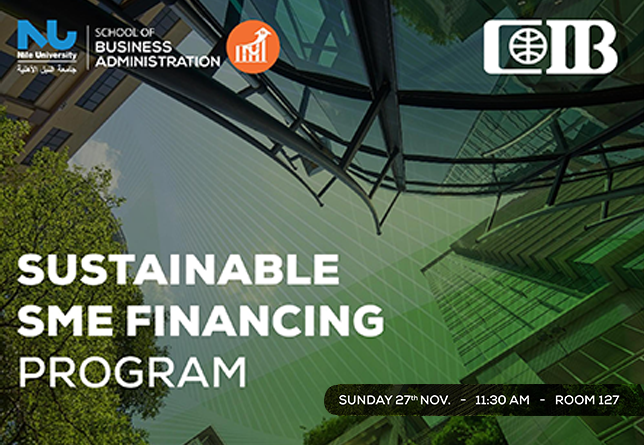 "Sustainable SME Financing" in Collaboration with CIB
Room 127 - Dr. Tarek Khalil's Building
Based on the mutual interest of both parties to serve the financial Egyptian labor market with a unique niche of university graduates acquiring newly introduced business specializations, and trained through the development of academic content with business and professional balance in mind, Nile University School of Business has developed a new track within the finance and economic majors for "Sustainable SME Financing" to bridge the talent gap.
NU School of Business Administration is proud to announce the launch of the 1st program of its kind in Egypt, "Sustainable SME Financing" for the Finance and Economics majors in collaboration with CIB.
This program aims to prepare a new generation of SME Sustainable Finance specialists to help the banking sector fill a vacuum in the labor market that will enable the financial sector to meet national and business objectives.
According to this partnership, students will be able to have an internship at CIB if they choose to enroll in this program.
With that essence, CIB & NU are partnering with an aim of creating a unique corporate and academic blended experience, through a set of activities by both parties driven ultimately towards the support of the community and nation in the attainment of its 2030 vision.
This represents the pioneering role of NU to build this capacity within its core business curriculum in collaboration with CIB, as a Co-founder and sponsor.
Click Here to find the Agenda of the day.