Image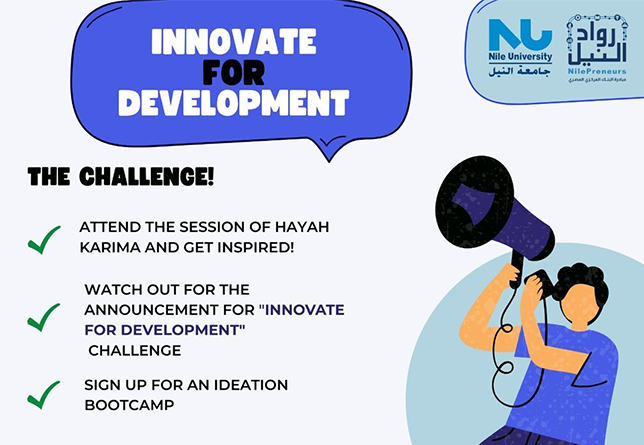 "Haya Karima" Initiative at Nile University
"You have not lived today until you have done something for someone who can never repay you."
― John Bunyan

Everyone in NU community is invited to attend "Haya Karima" talk on Wednesday at 12:30 pm; the talk will be held at the auditorium from 12:30 pm to 2:30 pm. 
Haya Karima is a major national initiative aimed at improving people's lives. Nile University has been supporting innovative ideas and startups that can provide solutions and contribute to the economy.
Accordingly, Nile University's National Initiative, NilePreneurs is interested in designing a challenge with the aim of developing ideas and innovations that can support "Haya Karima" activities.
The students will attend the presentation provided by Haya Karima, and use the input provided to attend an ideation bootcamp to generate ideas. The ideas selected from the bootcamp will be further supported by a pre-incubation program in order to develop prototypes and MVPs. Haya Karima staff will be involved every step of the way to set tracks, judge ideas and select winners.
To register for the challenge, click here: https://bit.ly/challenge-innovate
About Haya Kareem: 
It is the national initiative endorsed by H.E President Abdel Fattah Al-Sisi, President of the Arab Republic of Egypt, on January 2nd.  This initiative aims for immediate and urgent intervention to honor Egyptian citizens and keep their dignity and their rights to have a decent life and address multidimensional poverty and provide a decent life with sustainable development for the group most in need in the governorates of Egypt.
The initiative's role includes closing the developmental gaps among centers and villages and their dependencies, investing in human development, and enhancing the value of the Egyptian personality. Those are the citizens who endured the challenges of economic reform. Those citizens are the best supporters of the Egyptian state in its battle towards construction and development.
It is worth noting that for the first time at the public work level, more than 20 ministries and agencies and 23 civil society organizations meet to implement this important project, with the help of Egyptian youth volunteering for charitable and development work through decent life institution; to be as a beacon for us in the volunteering field.