Image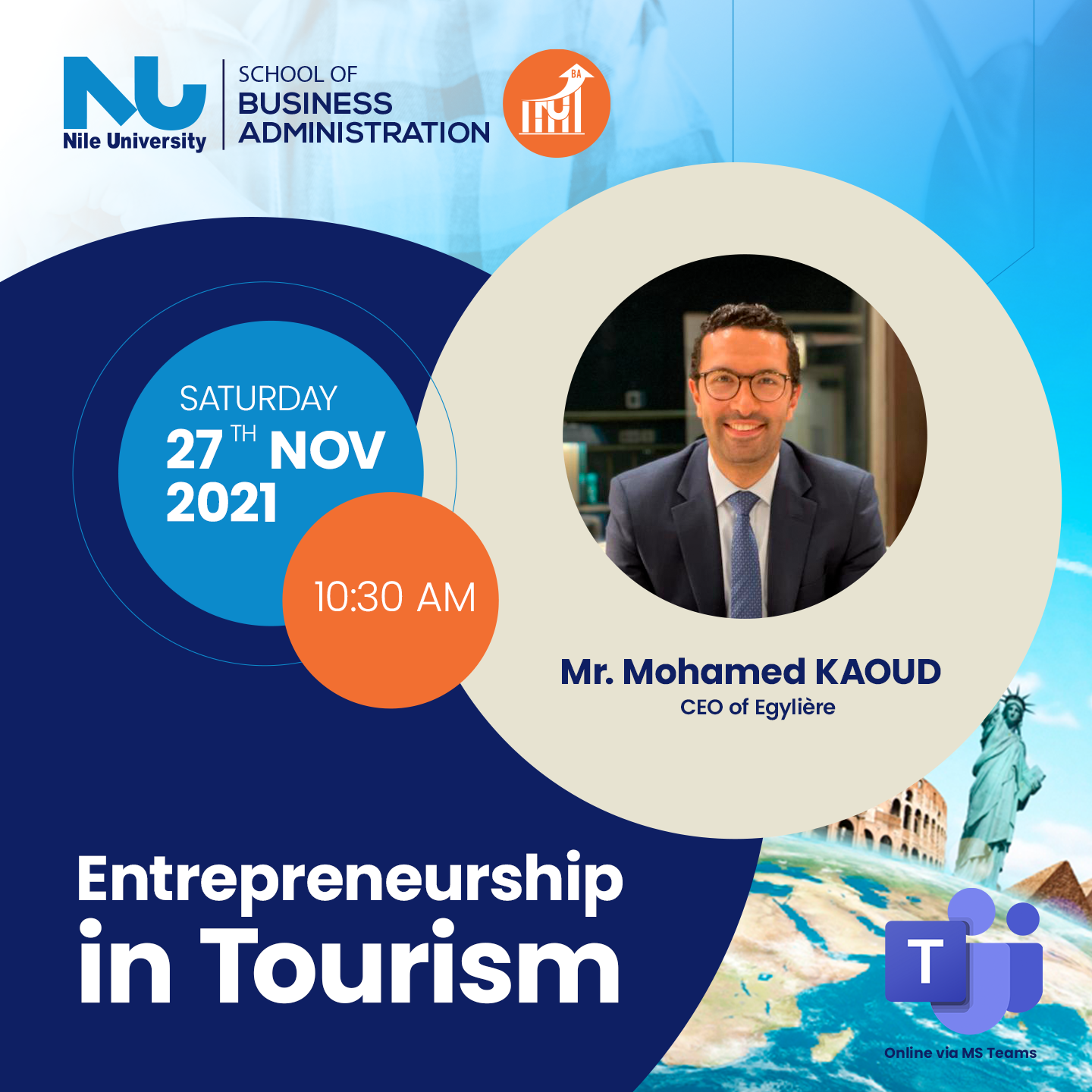 "Enterpreneurship in Tourism" Talk by Mr. Mohamed Kaoud
Online via Micrososft Teams
Join us virtually on Saturday November 27th with Mr. Mohamed Kaoud, CEO of Egylière and his talk on "Entrepreneurship in Tourism".
About Mr. Kaoud
- Egylière Luxury Travel CEO with strong record on establishing and managing a leading luxury travel management and Concierge Company meeting the growing demand on high end travel and lifestyle management.
- Hospitality Consultant and Economist with 15 Years of Experience in Hospitality, Tourism, Aviation and Travel Industry.
- Board member Egyptian Junior Business Association (EJB) President of Tourism and Aviation Committee
-Hospitality Director and Asset Manager for leading Real Estate Developer in Egypt and UAE
- MSc Real Estate, Finance & Hotel Development at Glion University London
- Diploma Hospitality Management at Ecole Hôtelière De Lausanne
- BSc Economics and Public Administration at Faculty of Economics and Political Science Cairo University
This comes as part of the graduation project course - Entrepreneurship track- under the supervision of Dr. Menna Kaoud & Dr. Bahaa Allam
Anyone interested in Entrepreneurship in the tourism sector is more than welcome to join Mr. Kaoud's talk
The session will be held online via Microsoft Teams at 10:30 AM
Session Link:
https://teams.microsoft.com/l/meetup-join/19%3ameeting_MjRhMzgxNDgtN2MzZC00MmM5LTkyOTktYzE5N2FjNzZlY2M2%40thread.v2/0?context=%7b%22Tid%22%3a%222b773d99-f229-4704-b562-5a3198831779%22%2c%22Oid%22%3a%229b8d4412-4204-4379-9f4c-239f8e5dfc88%22%7d