Image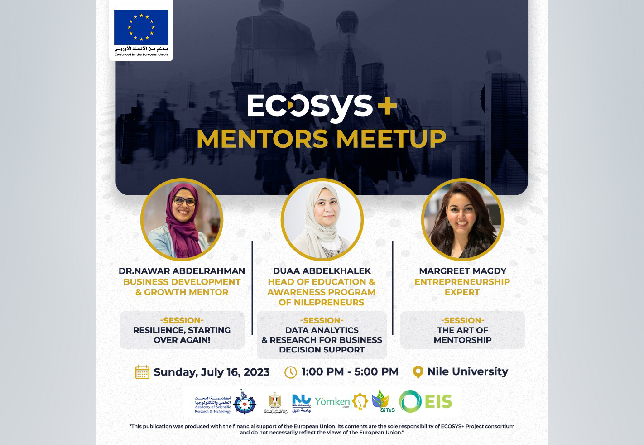 Ecosys+ Mentors Meetup
Calling all mentors and aspiring mentors! Don't miss out on this invaluable opportunity to connect, learn, and grow together and join our community and connect with others who share your passion.

Date: Sunday, July 16, 2023
Time: 1:00 PM - 5:00 PM
Venue: Nile University Campus
Session Highlights:
1) Resilience: Unlocking Your Potential by Nawar Abdelrahman
Nawar will share powerful strategies and motivational insights to help you conquer setbacks, embrace change, and turn obstacles into opportunities.

2) The Art of Mentorship: Guiding and Inspiring Others by Margreet Magdy
Margreet will talk about types of mentorship, the role of mentor and mentee in building the relationship between them, and the strategies for successful mentorship.

3) Analytics for Business Decision Support by Duaa Abdelkahlek
Duaa will talk about the essential role of data in building strong and resilient businesses and the role of mentors and consultants in guiding business owners to embrace a data-centric approach.