Image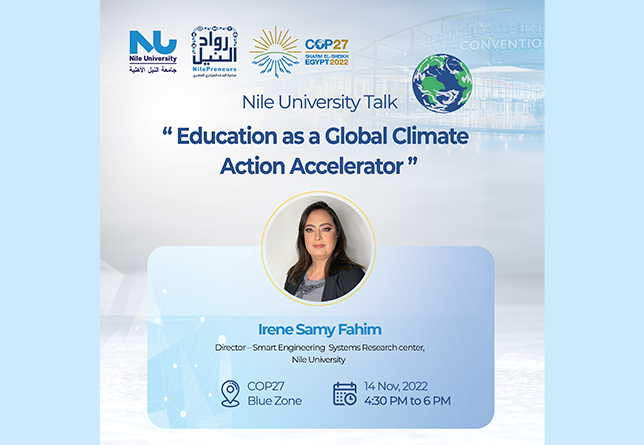 Dr. Irene to Talk about "Education as a Global Climate Action Accelerator" at COP27
COP27 Blue Zone, Sharm El Sheikh
Dr. Irene was invited to hold a talk at COP27 Blue Zone titled "Education as a Global Climate Action Accelerator", on November 14th from 4:30 pm to- 6:00 pm. She was asked by COP27 officials  to tackle and introduce a topic concerning "climate and environmental education as obligatory courses at all levels, from primary schools to the undergraduate level, to produce a well-educated generation of youth who innovate and act toward our earth and can change human behaviors to protect our planet."
Dr. Irene has a long history of doing research on several topics related to her industrial and sustainable development practice such as Fabricating new bioplastic composite materials.
Fabricating green corrosion inhibitors.

Ergonomics assessment in industrial companies.

Green Energy in Construction, LEED and green building certification.

Establishing an integrated sustainable waste management model for agricultural waste.

Providing industrial solutions in work in process and inventory models in industrial companies.

Assessment of pharmaceutical residues and their removal from water masses.