Image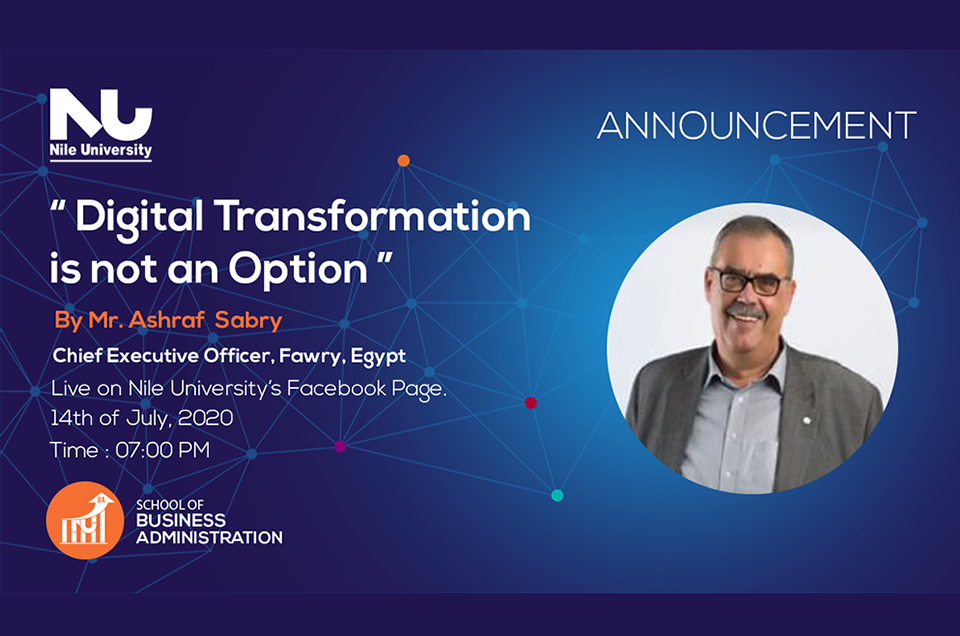 Digital Transformation is not an Option" by Mr. Ashraf Sabry
Go to Webinar
The webinar was live-streamed on Nile University's Facebook page on Tuesday, 14th of July 2020, 7:00-9:00 pm, Cairo time. The webinar included a talk on "Digital Transformation is not an option," followed by questions and a discussion panel.
Mr. Ashraf Sabry Title: Chief Executive Officer, Fawry, Egypt Mr. Ashraf Sabry is the Founder and CEO of Fawry, currently Egypt's largest Electronic Payment network serving 30 million Egyptians and connecting all Egyptian banks. Before Founding Fawry in 2008, Sabry spent ten years at IBM Egypt and 10 Years at Raya Holding Egypt.
Throughout his career, he established startup businesses, took the responsibility of expanding the business regionally, and held the CEO of different companies. Sabry served as a board member in many companies, including Oratech, Raya, ITIDA, and Suez Canal Economic Development Zone. Sabry holds an MBA from Leeds University in the United Kingdom.
Title of the talk: "Digital Transformation is Not an Option" The lecture answered many lingering questions; examples are:
1- Why customer experience and efficiency are the main drivers of (DT) digital transformation?
2- why DT Is Every Where and In All Businesses?
3- Why do Regulators have to come to speed?
4- Is there an Informal Digital sector?
5- Why the Customers Journey is driven by digital?
6- Who is – Generation Z?
7- How does AI impact DT?
8- Why do Fintech & Platform Businesses have higher Valuation? You can watch the live webinar in the video below: