Image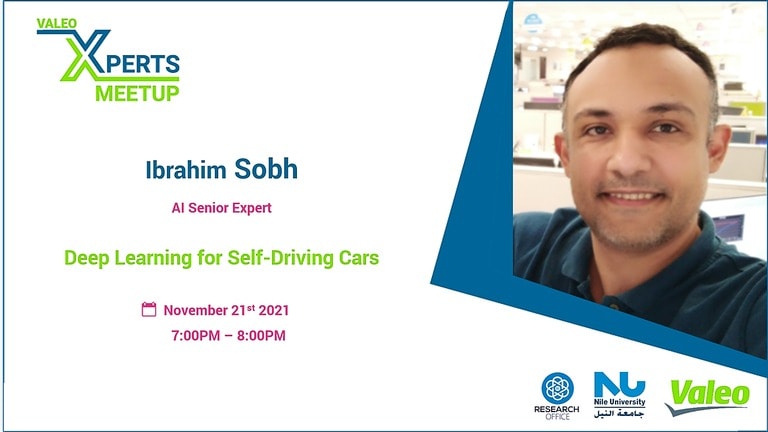 Deep Learning for Self-Driving Cars Webinar by Valeo AI Senior Expert Dr. Ibrahim Sobh
You can now join Valeo Xpert meetup in cooperation with Nile University.
In developing the youth's ability and enhancing their work experience to connect between academic studies, the labor market, and modern technology, Valeo Egypt, in cooperation with Nile University, is launching The Xperts Meetup on November 21, 2021, at 07:00 PM Via Zoom.
The webinars will discuss many topics about different technologies related to artificial intelligence and autonomous vehicles and provide practical examples and cases that applied vehicles technologies.
The "Deep Learning for Self-Driving Cars" webinar will be conducted by Valeo AI Senior Expert Dr. Ibrahim Sobh.
Dr. Sobh has more than 20 years of experience in the area of Machine Learning and Software Development. He received his Ph.D. in the field of Deep Reinforcement Learning. His M.Sc. thesis was in Machine Learning applied to automatic document summarization. Dr. Sobh is an active participant in several related national and international megaprojects, conferences, and summits. He delivers training and lectures for academic and industrial entities. Dr. Sobh's patents and publications focus on natural language processing, speech processing, and computer vision.
If you are fascinated with self-driving cars and innovations coming ahead, Make sure to register for free no later than November 18, 2021, through: https://forms.gle/LToiKdMv2P8CXkKE6