Image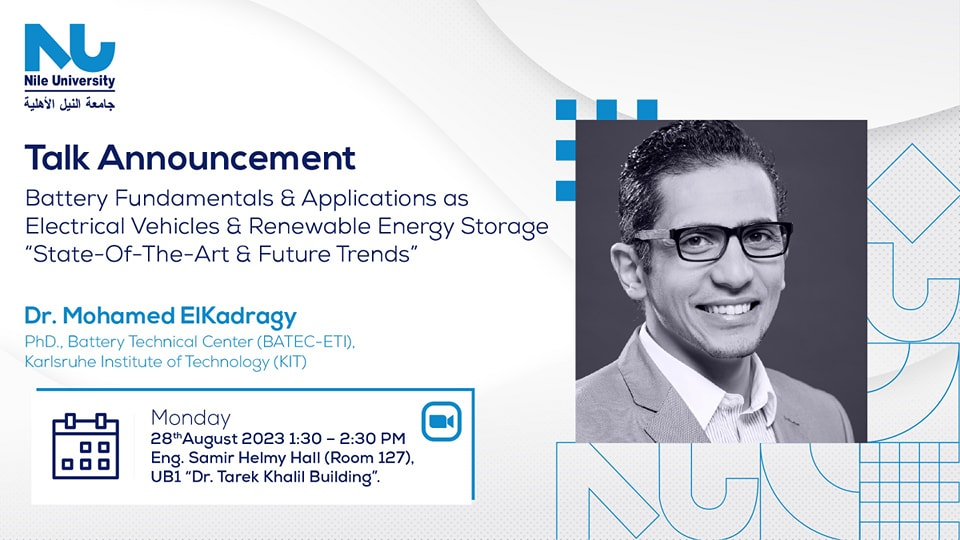 Battery Fundamentals and Applications as Electrical Vehicles and Renewable Energy Storage "State-Of-The-Art & Future Trends" Public Lecture
Nile University Campus, Samir Helmy Hall (Room 127), UB 1
Register Now
On behalf of Nile University, you are kindly invited to attend a public lecture on " Battery Fundamentals & Applications as Electrical Vehicles & Renewable Energy Storage: State-Of-The-Art & Future Trends" by Dr. Mohamed ElKadragy, Ph.D., Battery Technical Center (BATEC-ETI), Karlsruhe Institute of Technology (KIT), which will take place on Monday, August 28th, 2023, at 1:30 PM in Samir Helmy Hall (Room 127), Dr. Tarek Khalil Helmy Hall (UB 1).
The talk explores the following:
Batteries are the backbone of today's energy storage and our electrification future.
Li-ion batteries play a major role in the energy storage scope as one of the leading battery technologies.
Agenda:
Li-ion battery technical aspects covering the different structures, chemistries, and cell formats for such technology.
Other important technical topics such as battery manufacturing. 
Highlighting thermal runaway process and the design corrective measures taken to enhance battery safety over its lifetime.
Highlighting the major important aging mechanisms and root causes.
At the end of the talk, we will share the future trends of battery storage development beyond li-ion batteries, highlighting key future technologies such as Sodium-ion batteries, Li Sulfur, and other hybrid battery system technologies.
As a closure, we will cover an overall comparison between battery and Hydrogen storage.
Dr. Mohamed is a battery and storage expert with more than ten years of industrial and applied research professional experience. He was also the Program Manager – Battery & H2 Fuel Cell technical qualification - at one of the world's leading automotive companies HQ in Germany. He obtained and worked on his Ph.D. at the Battery Technical Center [BATEC-ETI], Karlsruhe Institute of Technology (KIT) in Germany, in cooperation with Waterloo Institute of Sustainable Energy (WISE), University of Waterloo (UW) in Canada. He holds an M.Sc. Eng. degree in renewable energy and a B.Sc. degree in electrical engineering. His main career focus and expertise are in battery storage (Li-ion & hybrid batteries), its applications as hybrid renewable energy systems (off-grid and decentralized), and electrical vehicles.