Image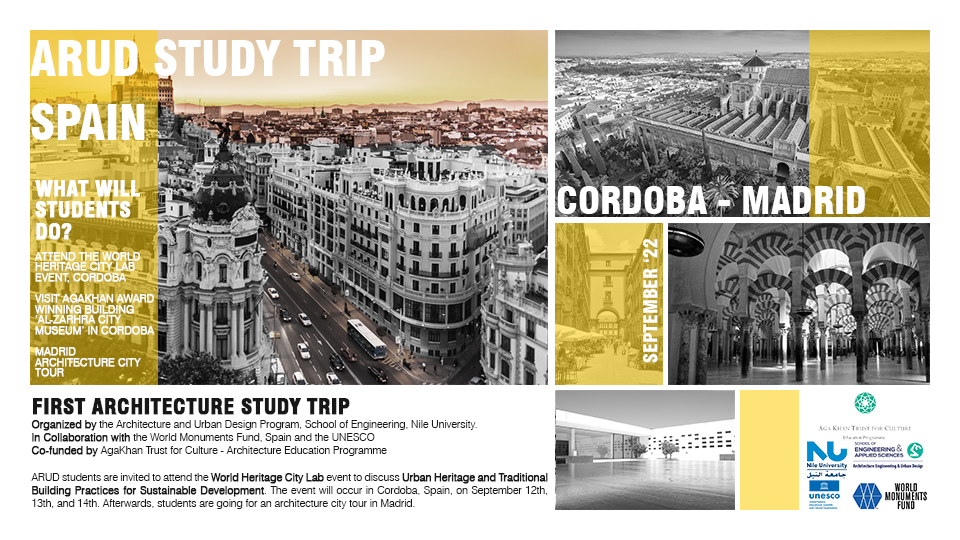 The Architecture Study Trip to Spain
Cordoba and Madrid in Spain
Nile University is organizing an international one-week study trip for the Architecture and Urban Design program (ARUD) offered for all levels of enrolled students. The trip will take place from 11th September 2022 to 18th September 2022, where students will visit Cordoba and Madrid in Spain.
The students are invited to attend the World Heritage City Lab event to discuss Urban Heritage and Traditional Building Practices for Sustainable Development. The event will occur in Cordoba, Spain, on September 12th, 13th, and 14th.
The experience will benefit ARUD students in many ways, first through their guided tour of Madrid itself, a showcase European city in contemporary architecture and urban design, and of Cordoba, the pinnacle of Islamic Moorish architecture. Second, their exposure to this reputable professional event co-organized by the UNESCO World Heritage City and World Monument Fund in their field of specialization. Not to mention the other non-academic benefits that come with traveling abroad, such as experiencing new places and cultures and making acquaintances, and gaining perspective.
Spain Architecture Study trip is a trip that explores the various components of the architecture in Spanish cities, allowing the students to focus on multi-cultural historical as well as contemporary architecture and learn about the history of both cities, a discovery that the students can hold onto for a lifetime.