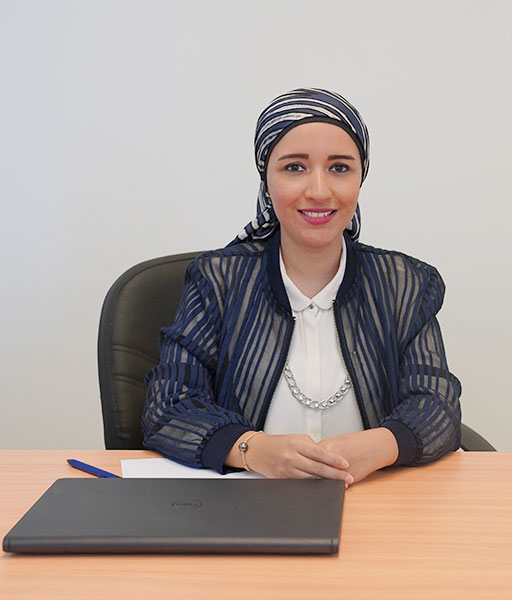 Biography
Hebatalla Kaoud is assistant professor at the Graduate School of Management of Technology at Nile university and Director of Intellectual Property and Technology Transfer office.
Hebatalla graduated with a Ph.D. in Management Sciences from Nantes University – France, in 2018. She holds master's degrees from Nantes University: Master in Market Research and Marketing Decision Making, 2012, and Master of Research and Business Consulting, 2013. Moreover, Hebatalla participated in many international research and business conferences in countries including France, Germany, Spain, Morocco, and Tunis.
Hebatalla has 7 years of experience in Innovation Management in France and Egypt. As an innovation consultant, she worked in different companies in France on different missions: Creating a Standard Operating Procedure (SOP) to support the adoption of an Open Innovation Strategy and the commercialization of innovative scientific projects in the business world, structuring a change management method, analyzing of R&D and innovation projects, and suggesting a methodology for filling a scientific patent. Her solid knowledge of innovative marketing strategies and research methodologies represents a cornerstone of her doctoral project which offers industry clusters operating in the MENA region the necessary tools to foster innovation and entrepreneurship.
Having both academic and professional expertise in innovative project management and entrepreneurship, Dr. Hebatalla Kaoud guided students in applying knowledge learned to real business situations. While in France, she taught different modules at Nantes University and the University of Poitiers. Afterward, she joined Nile University in Egypt to teach undergraduate students; E-Business, Innovation, Human Resource Management, and postgraduate students; Entrepreneurship. Hebatalla was teaching Entrepreneurial Family Firms and Technology Strategy, besides supervising graduation projects at New Giza University. Heba currently has joined Graduate School of Management of Technology.